Bhartiya Jan Kalyan Seva Sansthan (BJKSS) is an non-profit organization or civil society organization. It is registered under the societies act 21-1860 Uttar Pradesh, India year of 2001. It has been established in District Shrawasti (Indo Nepal Border).The organization was founded by a small group of social activist and enthusiastic people like minded citizens who recognized that there is a greater need to intervenes in the present situation for the betterment of the society. BJKSS came in to existence for the upliftment of the Tribal, Dalit, Women, Children, Poor, Disabled Person and Minority.
Thus we constantly emphasis on community organization, mobilization, people participation and contribution. We aim to identify promoting a social harmony and national  integration through grass root development work. We promote holistic and participatory approach for community empowerment and rural advancement. We promote to using traditional, sustainable practices.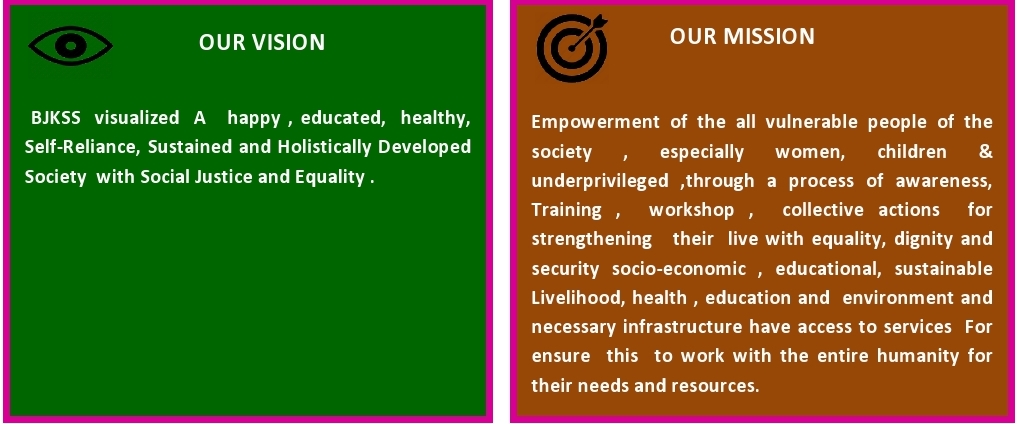 BJKSS has developed its Own working Strategy based on Its Vision, Mission, and its own experience from fields. Thus we promote self help groups and community based organization in our working village area, then undertake all developmental activities through and in consultation with them ensuring community participation in planning, Implementation, monitoring and evaluation.
Values are deeply held beliefs and are meant to be expressed through day-to-day behaviors of all staff. These are the guiding principles that preserve our commitment to excellence and sustain our long term viability, forming the architecture of our beliefs.
The core organizational values of BJKSS are as follows:
Empathy with the poor and discriminated.
Transparency and integrity
Decentralization.
Team work.
Professionalism and Team Work.
Learning organization.
Gender Equity.
Participatory Approach: includes respect for others, co-sharing, co-learning, dignity, self-help, ownership, belief in human potential and enabling.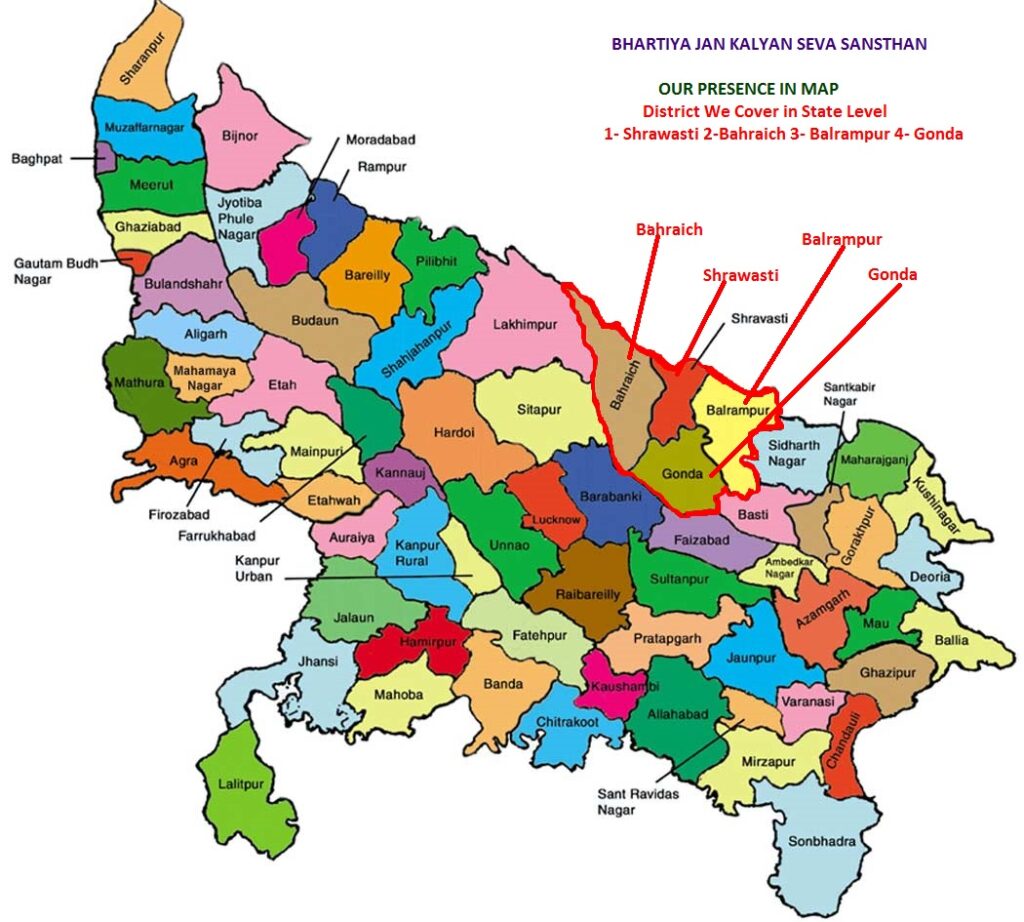 Our presence in Uttar Pradesh are highlighted by us on map in District Shrawasti, Bahraich, Balrampur, Gonda.
Implementation is the core strength of ' BJKSS'. It works to address the root causes of poverty and inequality through community-based interventions. ' BJKSS' implements the programs with high level of commitment, inclusiveness; values and respects people's rights and tries its best to deliver high quality results in a manner accountable to stakeholders.
'BJKSS' conceptualizes, develops and implements the programs in the following  Five  thematic areas.
Women empowerment & Local Self Governance.  
Health, Nutrition & WASH.
Integrated child development & Education Enhancement.   
Sustainable Livelihood.  
Environment, NRM, Climate Change & Disaster Risk Reduction.
The human resource and the financial management are the backbone of any organization. Today, whether one is a non-profit organization, corporate organization or any other entities, the human resource management and financial management area are of paramount importance. The HR and Financial policies have been formulated by the BJKSS senior management group on the basis of previous practical experiences. The core values of organization have been the key guiding principles behind giving shape to these policies/manuals. These policies are in practice by giving utmost importance to the self-respect and dignity of organization's human resource. There is a flexibility and scope to make needful amendments or modifications in these policies/manuals from time to time. Moreover, the BJKSS reviews its policies/manuals once in a five year or as per the need.  Organization has the following management and program policies for maintaining the accountability and transparency in the Organization . 
1- HR policy
2- Finance policy
3- Purchase Policy
4- Anti Sexual Harassment Policy  
5- Gender Policy
6- Child Protection Policy
7- Disability Policy
8- HIV/AIDS Policy
9- Office Policy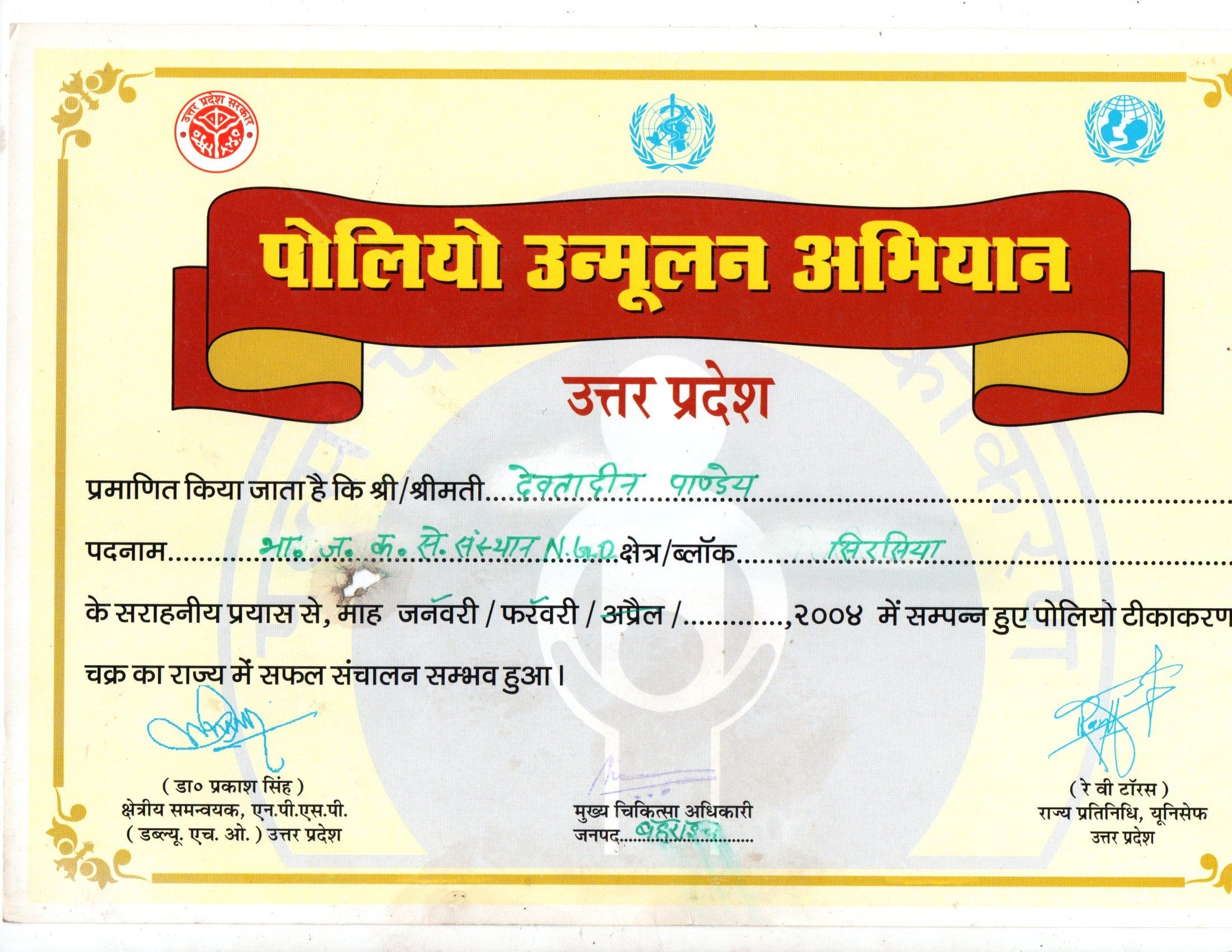 Bhartiya Jan Kalyan Seva Sansthan is registered under the Society Registration Act, 1860. We have successfully able to complete the legal formalities required for running a successful organization. The legal details of Bhartiya Jan Kalyan Seva Sansthan are given in following table.
1

Society Registration No.

Registration No. – 127/06/06/2001 Faizabad

valid up to 06/06/2026

 

2

Registration certificate U/S 12 A of the Income Tax Act 1961 of the Organization

12-A File No. 58/Registration N0. 126 58/126/ITC/Faizabad/Taquinqui/2007-08

 

3

Registration certificate U/S  80 G of the Income Tax Act 1961 of the Organization

80G File No.58/Registration N0. 127 58/127/ITC/Faizabad/Taquinqui/2007-08

 

4

Registration certificate under the Foreign Contribution (Regulation) Act, 1976 if any

Registration No. – 137350002

Dated-04/08/2010  Renewal Date – 26-5-2016

 renewed certificate is valid for a period of five years with effect from

 01-11-2016 to  1-11-2021

Extended  31-03-2022

5

PAN No.

 

AAAAB4525C

6

TAN

 

LKNB08996B

7

NGO Darpan / NITI Ayog Unique ID N0.

 

UP /2017/0161273
The organization also pays close attention to human resource development and management. The female staffs are given due opportunity to bring them into leadership roles within the organization. Moreover, the organization ensures staff participation in various capacity building programs, seminars, conferences, and workshops. Also, the staff is provided with trainings under external consultants. The organization provides insurance covers, personality development funds, etc., for complete safety and self development.
BJKSS monitors its impact on both macro and micro levels, we design and implement our programmes specifically to target the impact we strive to make. We form enable, educate, empower Community Based Organizations  at ground level to monitor all our services as we believe that beneficiaries can better scale what they are availing. Let's have a look over our systems or tools that makes us capable to measure our impacts at significant level.  
Monthly Core Committee Review and Planning Meeting
 In the presence of Chief Executive, all the Project Leaders along with one team member (From Second line), organize core committee meeting every month. In this meeting, each Project Leader/Coordinator presents monthly progress report and plan for next month in power point form followed by question answer sessions. This process helps to develop best understanding of each project team on organization's progress in total.
Fortnightly [Day wise], Quarterly and Annual Planning & Reporting
Regular Field Visits by the supervisors with well-defined checklist.
Internal Mid Term Review Evaluation by External Experts/ Donors.
Visitors feedback in written form.
Management Information System [MIS]:
BJKSS MIS systems have been developed at the grass root level, which is maintained by the Community Level Workers at village level, compiled by the "Field Coordinators" at cluster level and then compiled at project level by MIS Officers and validated by Project Coordinators. This system has all kind of data and detailed information regarding the activities executed at grassroots level. The organization level MIS is compiled and maintained on the basis of grass root level MIS system. The monthly data report is compiled on the basis of MIS and submitted by on the Field/Project Coordinators on monthly basis. Fortnightly and Monthly Meetings of Staff: In these meetings, all the team members share their learning's, present the reports and plan accordingly.
WHY WE NEED YOUR HELP
Because a better life and we need your hand
Your support will go a long way in helping us in our efforts.
Donate now to support women and girls get access to quality education, Child Development, Health, Covid-19, maternal and child health care services, sustainable livelihood opportunities, Environment Protection , Disaster relief and rehabilitation.